Discover more from The Instigator
private sector x the environment
Over 2,000 subscribers
It's Not Just About the Fleece Swag. Every Company Can Be More Like Patagonia.
Welcome to your bi-weekly newsletter pushing business and environmental leaders to work together for change.
This is The Instigator, a bi-weekly newsletter that will tackle huge environmental challenges in ways that make business sense. This won't be business as usual — but rather, a bold exchange of ideas that will push the private sector to take action to save the environment, — now before it's too late. I'll present strategies and positive examples we can learn from and straightforward advice from people on the front lines.

I'd love it if you would share this with a friend or colleague that might benefit from these ideas. I don't have all the answers, but I'll ask questions as best I can and I'll try hard to encourage all of us on this important campaign.

The Quick Rundown
Patagonia is a case study that demonstrates two big things. First, smart and ambitious environmental initiatives pay off.  And second, although it takes some creativity, courage and hard work, most companies can do this.
---
When you're in the conservation business, you can't ignore money. Conservation is a capital intensive undertaking. Rather than ignore funding, you need to leverage it to your advantage. 
Right after I joined The Nature Conservancy, we signed a deal to buy some 300,000 acres of pristine land in Montana. It was a fantastic deal. The land was gorgeous. All of the species that had thrived in the area when Lewis and Clark visited were still there!  Plus, we had to do the deal — there were no other conservation buyers. If we didn't step up, it would likely go to a developer who would once again pave paradise to put up a parking lot. But the deal was tricky for a couple of reasons.
First, the purchase price was $500 million dollars. That is a big capital outlay for an NGO —  even mighty TNC.
Second, the timing turned out to be tricky.  We signed the deal — our biggest purchase ever by far — in late August 2008. If I had a crystal ball, I would have seen that we were just weeks away from Lehman Brothers and AIG going bust and the financial crisis exploding. But at the time we were blissfully ignorant of the pending economic meltdown.  
Fast forward a couple of months and there we were with one question on all of our minds: How were we ever going to raise $500 million in philanthropy to pay for the debt we incurred when we bought this inspiring acreage?!
Off we went to Montana to do some fundraising. 
We invited a bunch of tycoons to come see our great acquisition.  But we needed some star power.  So we asked Yvon Chouinard, legendary environmentalist and founder and CEO of Patagonia, to come along. He obliged. 
Yvon had never met me before, and I think he had some reservations about a big environmental NGO hiring someone like me from Wall Street. But that didn't hold him back one iota. He was fantastic — charming, inspiring, funny — and he emphasized to our guests how important it was that they support this ambitious deal. And they did. 
Yvon graciously put aside his qualms about my background because he believed, as I do, that when it comes to doing big, bold ambitious things for nature, we need "all hands on earth."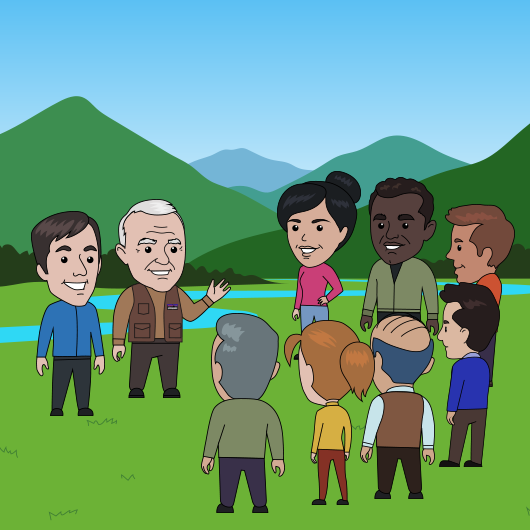 —
I always urge business leaders to be bolder and more creative about launching ambitious environmental initiatives in ways that also make good business sense. So what better case study can there be than the company Yvon built? From his initial vision to their leadership today, Patagonia is a great example of how to achieve business success in the 21st century.
CEOs mostly get it these days.  They understand that their stakeholders — customers, employees, shareholders, community members — want more from business.  That's especially evident right now, as society grapples with hugely challenging crises like the COVID-19 pandemic, racial discrimination, socio-economic inequities and climate change. CEOs also understand that showing leadership on these issues will likely lead to positive new business opportunities, even if they can't forecast them precisely.
So what's the problem?
Companies mostly play it too safe on the environmental front. Management teams feel it's risky to challenge norms.  So instead they challenge me: "Show me some examples of companies doing good and making money all at the same." 
The news over the summer that Patagonia's CEO Rose Marcario would be stepping down reminded me of a perfect response. There is probably no finer example than the company under her leadership to prove that yes, other companies can and should aim high when addressing environmental challenges. 
Patagonia — Environmental Hero
From its founding by Yvon Chouinard in 1973, Patagonia has put tackling environmental challenges into its raison d'etre. Its mission statement reads: "Build the best product, cause no unnecessary harm, use business to inspire and implement solutions to the environmental crisis." In 2019, the United Nations Environment Program (UNEP) recognized Patagonia for its entrepreneurial vision.
The company's approach doesn't seem to have dampened its business. Over the decades, Patagonia has opened over seventy brick and mortar stores worldwide across five continents, become a household name, and reportedly does over a billion dollars in sales annually. 
But let's dig in a little further. 
Is Patagonia's Approach Paying Off?
However you choose to measure business success, Patagonia seems to be scoring high:
Revenue: Patagonia is a privately-held company, so I can't do a full financial analysis to show you how its enterprise value has soared over the last several years.  But according to news reports, Patagonia's sales have more than quadrupled over 10 years to over $1 billion. 
Customer base: The omnipresence of Patagonia's fleece jackets is evidence enough that it has attracted a diverse and loyal customer base. Whether on millennials' Instagram feeds or on the backs of billionaires at the annual summer Sun Valley conclave, Patagonia goods have become shorthand for expressing a desirable identity and set of values, as well as a high-quality product.  (When I worked at The Nature Conservancy, a running but affectionate gag was to refer to everyone's gear as "PataGucci").
Talent base: The company consistently ranks as one of the most desirable places to work.  Just last year it was listed on Fortune's 100 Best Companies to Work For and received over 9,000 applications for 16 internship slots.
Positive PR: Patagonia's actions attract abundant — mostly glowing — media coverage. Some examples include Fast Company's feature on founder Yvon Chouinard and his views on how to save the planet; Time Magazine's piece on how Patagonia is helping reimagine consumerism; and Business Insider's deep dive into Patagonia's famous internal culture. These pieces strengthen the halo effect around Patagonia, rendering its products that much more attractive. 
So, what is Patagonia doing that's so smart?
They don't wait. They lead, and competitors follow.   They cleaned up their supply chains. They embrace transparency; their "Footprint Chronicles" use slideshows, video, and other tools to map the warts-and-all journey of their products. They take back (for store credit) and resell used gear and clothing under their brand "Worn Wear." They even take back and resell worn out and badly damaged merchandise under the "Recrafted Collection" moniker. 

More recently, they've launched in-person and virtual Worn Wear workshops for customers to learn how to fix their own gear, so they don't need to buy so much new stuff. 

They look ahead and take on some of society's biggest challenges.  I believe that being ambitious about finding opportunities where society faces its biggest risks is also a good way to discover new business opportunities — even if it's not yet clear exactly where and how these opportunities will arise.  Patagonia's "Tin Shed Ventures" VC unit does just this. It funds start-ups offering solutions to the environmental crisis — in complete alignment with Patagonia's mission statement. So far they've invested in a number of ventures, including those in the material sciences and regenerative agriculture. The latter has already led to a new business, Patagonia Provisions, a sustainable food effort.

They aren't afraid to get political. It's on the advocacy side where Patagonia's leadership is especially visible, bold, and instructive to other companies. And it's having an outsized impact, because for most environmental challenges, government regulatory policy is where we lag behind. 

Here are just a few examples of where Patagonia is leading:  

Most major companies now claim to favor the big policy initiatives that environmentalists favor, such as a price on carbon.  But they don't really fight for government support of such policies the way they fight on areas more closely connected to their bottom line. We need business to step up and take a more activist approach, as modeled by Patagonia. 

They partner with civil society in meaningful ways. This is the advice I always give management teams who want to do more in the environmental area: Partner with nonprofit organizations.  They know stuff you don't.  You'll be able to raise one another's game and get more done together.

For instance, Patagonia's partnership with Fair Trade USA goes beyond certifications for the company and its suppliers. Through FTUSA, Patagonia contributes to a "worker premium" that factory employees decide how to spend. At one factory in Sri Lanka, for example, employees used it to open a childcare center for working parents. 

Patagonia also goes further than most when it comes to financially supporting NGOs.  Many corporate programs match donations by employees to charities. Patagonia actually matches the donations that its customers make to nonprofits through its Patagonia Action Works portal. So far as I know, no other company does that. In 2019, that meant giving $10 million dollars, effectively helping to raise $20 million for environmental work.  
Patagonia doesn't shy away from pushing other companies to follow their lead, either. They co-founded 1% Percent for the Planet — a coalition of companies that "pays" for the natural resources that contribute to their revenue by donating back 1% of their gross annual profits to grassroots environmental organizations.
That all sounds good. But isn't it just marketing?
I hear this refrain from skeptics a lot. My response — I don't think I would mind if it was just marketing.  But it's clearly not.  These are real actions that achieve real and positive outcomes — even if the immediate consequence might be to hurt the company's P&L a bit.   My takeaway conclusion about how to be like Patagonnia; think big, act big and try to do the right thing, period.  That's the way to distinguish your company and make a significant difference.
Fine, but the Patagonia approach would never work in my sector, right?
Wrong. 
Indeed, one of the main objectives of the Instigator is to show that almost any company can do what Patagonia does along these lines. To be sure, it takes some creativity, boldness, and courage. It also takes a lot of hard work. But I can't think of any sector or company that doesn't have these kinds of opportunities. 
Here are two examples. 
Intuit's "50 times by 30" climate program.  Intuit decided to be a leader in  addressing the climate challenge.  But the company concluded that it would be pretty easy for a software maker to reach carbon neutrality — their footprint is small.  So they asked, "How can we do much more? How can we really challenge ourselves?" Their answer: by helping our small business and self-employed customers, employees, and communities reduce their emissions.  Intuit's ambitious goal is to achieve overall emission reductions 50x the company's 2018 carbon footprint by 2030. And how exactly is this good for business?  Just imagine how this will allow Intuit to get to know their customers better, solve problems together, and — in all likelihood — discover new business opportunities with them, right?  Or try to imagine a better way to engage with, and inspire, a group of employees.
Syngenta's "Good Growth Plan."  This global agricultural company operates in a controversial industry — seeds, crop protection, and various agronomic solutions.  Many enviros like to bash Big Ag, but Syngenta is taking on its challengers.  In the program, the company seeks to sharply reduce pesticide use, strive for carbon neutrality in farming, and bolster welfare for farm workers, among other goals. I'd expect that this well-funded and very transparent program will lead not just to positive environmental outcomes.  It should also result in new business opportunities, reduce risks, and — again — bolster engagement with key stakeholders.  Will everything go exactly as planned?  Probably not.  But it's hard for me to see how this program doesn't bolster the company's overall standing.
What can you do? 
To see more companies step up like Patagonia (and Intuit and Syngenta), well that might take some pushing. That's where stakeholders — employees, customers, shareholders, and activists —  have an enormous opportunity to speak up and make things happen today. Challenge them to do better, and they just might! 
Stay tuned for future posts, where we'll show exactly what this looks like.
And as for Patagonia, I've always admired Yvon, Rose, their team and the company for serving as an inspiration and role model for the rest of us.  Thank you for all that you have done, and continue to do, to protect nature!

The Index: (links of the week)
Learn more about Patagonia and the man who led the charge in his memoir, Let My People Go Surfing.   Also recommend the company catalogs — they have great information on environmental challenges and NGOs partners.
My friends at the Environmental Defense Fund recently introduced their Climate Authenticity Meter to track the various individual corporate climate initiatives and coalitions.  It's important to hold companies accountable and measure outcomes. Well done EDF!
Speaking of assessing corporate climate commitments, what should we make of the many oil and gas majors recently announcing sharp strategic pivots away from fossil fuels?  Here's Vox's David Roberts' review.  Game on. We should thank the activists who campaigned for this change and the institutional investors who supported shareholder initiatives to make this happen.  Keep it up!

One Last Thing
Do you ever find yourself discouraged, a bit cynical, or even depressed these days when thinking about the many challenges we face? I do. But it's not helpful.  We need a can-do spirit to make progress. We don't want to be naive or pollyannaish, however.  Two new books are helpful on this front.  
Neither book sugarcoats our challenges. Both emphasize we need dramatic improvement in regulatory policy to address climate, biodiversity, and animal rights. But they also allow you to conclude humankind just might rise to the challenge.
See you in two weeks,